Beef Recipes For Diabetics: Healthy and Delicious Options
Living with diabetes doesn't mean you have to miss out on your favorite beef dishes. With a few modifications, you can enjoy beef recipes that are delicious, nutritious, and suitable for a diabetic meal plan. In this article, we'll explore a variety of beef recipes for diabetics that prioritize balanced nutrition and blood sugar management, without sacrificing taste.
Diabetes-Friendly Beef Recipe Tips
Before we dive into specific recipes, let's go over some general tips for creating diabetes-friendly beef dishes:
Choose lean cuts of beef: Opt for leaner cuts such as sirloin, flank, or tenderloin to reduce saturated fat and calorie intake.
Control portion sizes: Stick to a 3-ounce serving of cooked beef, which is about the size of a deck of cards, to keep calorie and fat intake in check.
Pair with low-glycemic sides: Accompany your beef dishes with low-glycemic vegetables, whole grains, or legumes to maintain blood sugar levels.
Limit added sugars and unhealthy fats: Use herbs, spices, and vinegar for flavor, and avoid sugary marinades and sauces that can spike blood sugar levels.
Monitor carbohydrate intake: Keep track of the carbohydrate content in your meals to manage blood sugar levels effectively.
Delicious Beef Recipes for Diabetics
Now that we've covered the basics, let's explore some tasty and healthy beef recipes that are perfect for diabetics.
1. Grilled Steak Salad with Blue Cheese and Walnuts
A salad is a great way to enjoy lean beef while also incorporating nutrient-rich vegetables. This grilled steak salad recipe uses a flavorful balsamic vinaigrette and is topped with blue cheese and walnuts for added texture and taste.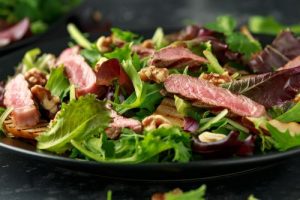 Ingredients:

3 cups mixed greens
4 ounces grilled lean steak, thinly sliced
1/4 cup crumbled blue cheese
1/4 cup chopped walnuts
2 tablespoons balsamic vinegar
1 tablespoon olive oil
1/2 teaspoon Dijon mustard
Salt and pepper, to taste
Instructions: In a large bowl, combine mixed greens, steak, blue cheese, and walnuts. In a small bowl, whisk together balsamic vinegar, olive oil, Dijon mustard, salt, and pepper. Drizzle the vinaigrette over the salad and toss to combine. Serve immediately.
2. Beef and Vegetable Stir-Fry
Stir-fries are an excellent option for quick, healthy meals. This beef and vegetable stir-fry is packed with colorful, low-glycemic vegetables and lean beef strips, cooked in a diabetes-friendly sauce.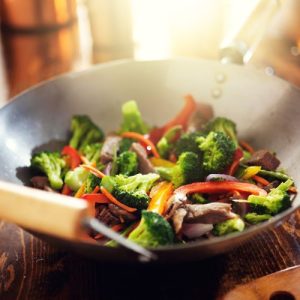 Ingredients:

8 ounces lean beef strips
2 cups broccoli florets
1 cup sliced bell peppers
1 cup snow peas
1/2 cup sliced carrots
1/4 cup low-sodium soy sauce
2 tablespoons oyster sauce
1 tablespoon rice vinegar
1 tablespoon cornstarch
1 tablespoon olive oil
2 cloves garlic, minced
1/2 teaspoon grated ginger
Instructions: In a small bowl, whisk together soy sauce, oyster sauce, rice vinegar, and cornstarch. Set aside. Heat olive oil in a large skillet or wok over medium-high heat. Add garlic and ginger and cook for 1 minute. Add beef strips and cook until browned, about 2-3 minutes per side. Remove beef from the skillet and set aside. Add broccoli, bell peppers, snow peas, and carrots to the skillet, cooking until vegetables are tender-crisp, about 5 minutes. Add the beef back to the skillet and pour the sauce over the mixture. Stir to combine and cook for an additional 2-3 minutes, until the sauce has thickened. Serve over brown rice or quinoa, if desired.
3. Slow Cooker Beef and Mushroom Stew
A hearty stew is a comforting and delicious option for diabetics. This slow cooker beef and mushroom stew recipe is made with lean beef, a variety of mushrooms, and a rich, savory sauce.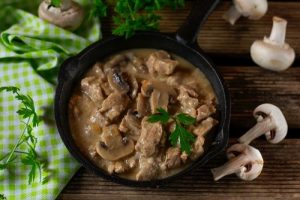 Ingredients:

1 pound lean beef stew meat, cubed
2 cups sliced mixed mushrooms (such as cremini, shiitake, and oyster)
1 medium onion, chopped
2 cloves garlic, minced
1 1/2 cups low-sodium beef broth
1/2 cup red wine (optional)
1 tablespoon tomato paste
1 tablespoon Worcestershire sauce
1 tablespoon olive oil
1/2 teaspoon dried thyme
1/2 teaspoon dried rosemary
Salt and pepper, to taste
2 tablespoons cornstarch mixed with 2 tablespoons cold water
Instructions: Heat olive oil in a large skillet over medium-high heat. Add beef cubes and cook until browned on all sides, about 5 minutes. Transfer beef to a slow cooker. In the same skillet, add onions, garlic, and mushrooms, and cook until softened, about 5 minutes. Transfer the vegetables to the slow cooker. Add beef broth, wine (if using), tomato paste, Worcestershire sauce, thyme, rosemary, salt, and pepper to the slow cooker, and stir to combine. Cook on low for 6-8 hours or on high for 3-4 hours. During the last 30 minutes of cooking, stir in the cornstarch mixture to thicken the stew. Serve over mashed cauliflower or whole-grain pasta, if desired.
Conclusion
With these delicious and nutritious beef recipes, diabetics can enjoy satisfying meals while maintaining proper blood sugar levels. By focusing on lean cuts of beef, controlling portion sizes, and incorporating nutrient-rich, low-glycemic ingredients, these dishes provide a tasty way to stay on track with your diabetes meal plan.
Remember that individual dietary needs may vary, so it's always a good idea to consult with a healthcare professional or registered dietitian before making significant changes to your diet. With a bit of planning and creativity, you can enjoy a wide variety of beef recipes that are both flavorful and diabetes-friendly.
Whether you prefer a refreshing grilled steak salad, a colorful and nutritious beef and vegetable stir-fry, or a comforting slow cooker beef and mushroom stew, there are plenty of options to suit your taste buds. So go ahead and try these recipes or experiment with your own healthy adaptations, and enjoy the satisfaction of a delicious and balanced meal that supports your diabetes management goals.